---
Advantages of the Mobile Slaughter House
Higher quality:

full ripening
And hence longer durability
Environmentally friendly:

rumen acid - blood - fats (no chemicals) are disposed of on a small scale.
Up to 60 percent less transport weight on the roads.
Healthier work environment:

No one-sided pressure compared to the work at the assembly line (slaughter line)
More economical:

Euro 49.- in opposition to Euro 150.-
No torturous animal transport:

slaughtering in the familiar environment of the animal without stress!
Customer friendly:

better labeling of the meat directly at the farm, no confusion possible
Disadvantages of the Mobile Slaughter House:
Transport of warm meat:

is compensated by higher quality and ripening - no extension (dilution)
or 36 hours interim storage in containers.



Better trained personnel required.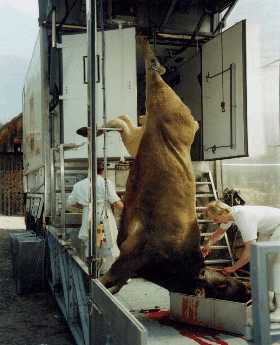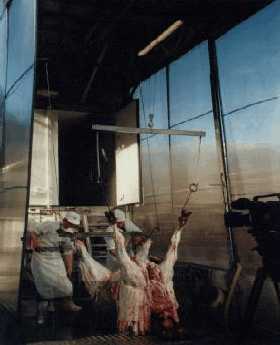 ---