---
Short Biography and Synopsis on the Development of the Mobile Slaughter House:
I am the son of a farmer and left my father's house at an early age. I founded an earth and blasting company, which specialized on constructing ski slopes. After a period of time, I employed between 15 and 20 workers. When working as a ski instructor with young people I met Baldur Preiml (a famous Austrian trainer of ski jumpers and the first to introduce health food for his trainees) who taught me about the connections between nutrition and physical performance. Therefore, I began to think about the issue myself.

When my father began to grow old, I returned to my family's farm (37 hectares arable land and 50 hectares forest.)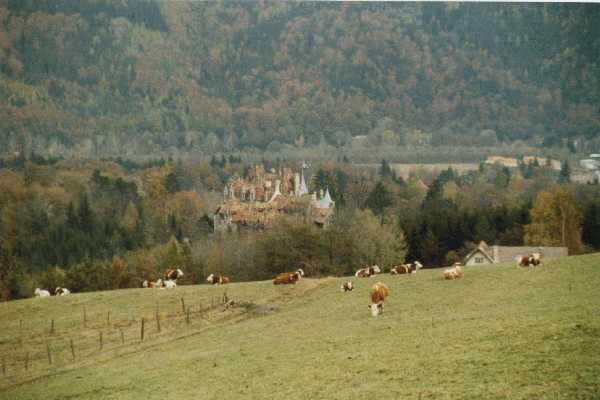 When I took over the farm, I introduced innovations such as intensified dairy farming. For this purpose, I cultivated corn (intensely fertilized and treated with insecticides) and thus tried to increase the amount of fodder according to the methods used for intensification. This way of farming, however, caused increasingly health problems of my animals, so that I eventually spent all my gains at the veterinarian.
This gave me the impetus to question fundamentally the farming methods I employed and eventually in 1986, I converted my farm to organic farming and keeping of mother cows.
My experiences with loading cows that were ready for slaughter and transporting them to the butcher prompted me to reconsider the whole issue and eventually led to the invention of the mobile slaughter house. Animals that were used to living in the open air vehemently resist catching and loading on a truck. This procedure often required adventurous maneuvers, which reminded of a western.
At one point I had a crucial experience - twin calves ready for slaughter had to be transported to the butcher. One of them was caught with much difficulty and was transported to the butcher alive. In the case of the twin, I did not want to go through this painful procedure again and shot it on the meadow. I noticed that the meat of the calf that was shot was of an incomparably higher quality.
While working as a ski instructor, I was confronted with the question of appropriate nutrition for people who have to accomplish a demanding physical performance over a short or long period of time. Thus, I became aware that meat from stress-free home slaughtering is the essential form of nutrition for man giving high physical performance.
---